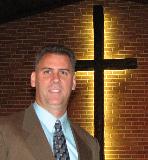 Welcome to the First Baptist Church of Beltsville
We hope you enjoy navigating through the site where you can get information about what God is doing through the ministries of His church. You can find out service times, receive help for locating us, or just browse our links to learn about who we are.
FBC Beltsville is all about helping people connect to God and to one another. I like to tell people that the church can be located geographically and spiritually by our motto, Finding Peace with God on the Hilltop of Beltsville. May God lead you to perfect peace through the Person of Jesus Christ. As Jesus said, "You shall love the Lord your God with all your heart, and with all your soul, and with all your mind, and with all your strength"..."You shall love your neighbor as yourself. There is no other commandment greater than these." (Mark 12:30, 31)
Once you are done checking us out on the web, we'd love for you to come be our guest in person. I promise that you'll be glad you did. We want you to be part of the family here at FBC Beltsville. Can't wait to see you!